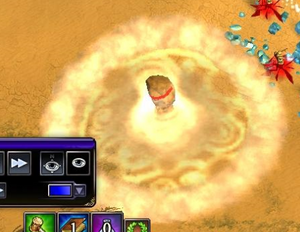 The sand circle is a round Alin structure that produces sand units, which may then be upgraded at the sand spire. They can be built anywhere, including enemy territory and are cheaper in friendly territory is cheaper than the Vinci barracks and Cuotl fane.
The sand circle can be upgraded to a lush sand circle, which acts as a supply source.
The sand circle can be built anywhere you can see, but costs more outside of friendly territory. They are, however, very fragile, so best to hide them in sneaky places, hard to find. They take no attrition damage, and are rather cheap.
Units Produced
Edit
Ad blocker interference detected!
Wikia is a free-to-use site that makes money from advertising. We have a modified experience for viewers using ad blockers

Wikia is not accessible if you've made further modifications. Remove the custom ad blocker rule(s) and the page will load as expected.