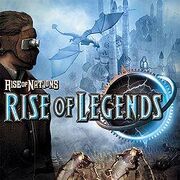 The Score for Rise of Legends was composed and produced by Duane Decker from his audio company DDMusic LLC. The score is a 95 minute fully-orchestrated production that expands on central themes from Rise of Nations while creating a new atmosphere for Rise of Legends.
Decker created specific musical themes for each civilization included in Rise of Legends. In addition, he created character themes including the popular one referred to by players as "Lenora's Theme".
Ad blocker interference detected!
Wikia is a free-to-use site that makes money from advertising. We have a modified experience for viewers using ad blockers

Wikia is not accessible if you've made further modifications. Remove the custom ad blocker rule(s) and the page will load as expected.